Smoky Mountain Stream, River and Lake Fishing
For a lot of folks, fishing has never really been about catching fish. Especially when it comes to kids, the experience is a lot more about spending some quality time with Dad. As Father's Day rolls around and you're considering your options for some good family bonding time, think about putting together a fishing trip with Dad in the Smokies.
Start by renting a cabin in the Pigeon Forge area. Planning for a 2-night, 3-day stay will give you plenty of time to gather your gear find a great spot and get your lines in the water.
After you book your cabin, you'll want to be sure that anyone over the age of 13 has a valid Tennessee fishing license. To find out which licenses you need, click here if you're a Tennessee resident or here if you're coming from out of state. If you're planning to fish in Gatlinburg, you'll need a special license. The good news is that you can purchase all of the necessary licenses online, so you'll be ready to cast as soon as you get to town.
A fishing weekend might be the right time to get Dad some upgraded fishing gear. You can browse the tackle in several spots around the area. The Bass Pro Shops just off the interstate in Sevierville can supply you everything you'd ever need for a weekend fishing excursion. Browsing the aisles there is nearly as fun as the actual fishing. The Orvis Retail Store located near The Apple Barn in Pigeon Forge can hook you up with all your fly-fishing needs. The Smoky Mountain Angler in Gatlinburg has been outfitting fishermen in the Smokies for nearly thirty years. Once you're geared up with rods, reels, and tackle, Dad and the kids will be ready to outsmart every fish in the river.
Just about any spot that you can get to is likely to have some fish. Whether those fish want to be caught or not is a different story. Although a little quiet time out on the river trying to get a big, beautiful trout on the line might be just the thing for Dad, a day of waiting for nothing to bite tends to wear a little thin for the kiddos. If patience starts to run short, head over to English Mountain Trout Farm and Grill. You're more or less guaranteed to catch a trout there. They'll even bait the hook for you. And the best part? They'll grill up what you haul in, allowing you to enjoy the bounty when you're still in the excited glow of finally catching something.  Father's Day is June 19 so don't delay!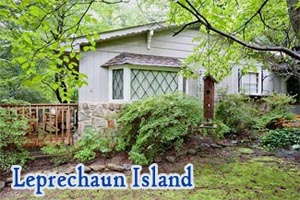 Leprechaun Island
Creekside
2 Bedrooms / 2 Baths / Sleeps 6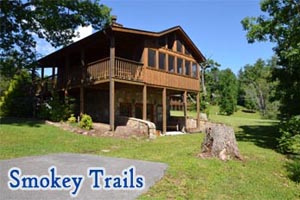 Smokey Trails
Fishing Pond
1 Bedroom / 1 Bath / Sleeps 4