Celebrate the Season in the Smoky Mountains
It's holiday celebration time in the Smokies and we are shining a few lights on special events and festivals taking place this December. Follow the Christmas lights from Sevierville to Gatlinburg and you'll find Christmas shows, holiday dinners, music and dance in between. Bring your Christmas spirit or find it while you're here!
Check Availability & Book Your Christmas Vacation Cabin
Free Tuesdays in December + Gateway to Fun Pass!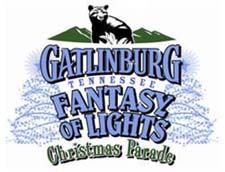 1
Gatlinburg's 42nd Annual Fantasy of Lights Christmas Parade: Thousands of people will line the streets well before the 7:30 p.m. parade kickoff so grab your chair or blanket and arrive early! Parade features lighted floats, marching bands, equestrian units and towering balloon characters. Parade starts on Hwy 321 and proceeds through downtown Gatlinburg to traffic light #10.
1-2, 8-9, 15-16
Winter Magic Tunes & Tales: Enjoy Christmas entertainment along the Parkway of downtown Gatlinburg with strolling performers, holiday music, and visits with Rudolph, Frosty the Snowman, and Santa's Elves. Performances are from 5-9:30 p.m.
1- 3
Great Smoky Arts & Crafts Community Christmas Craft Show: See members of the Gatlinburg Arts & Crafts Community as they gather under one roof at the Gatlinburg Convention Center to host their annual holiday show offering a unique Christmas shopping experience.
1-31
Pigeon Forge Christmas Shows: Most shows and dinner theaters begin their Christmas productions on November 1 and continue through New Year's Eve. Christmas shows are offered by Country Tonite, Smoky Mountain Opry, Comedy Barn, Smith Family Theater and Sweet Fanny Adams. Christmas Dinner Shows include Hatfields & McCoys, Dixie Stampede and Biblical Times. Confirm operating schedules and showtimes with your chosen theatre.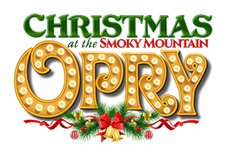 1-January 4, 2018
Smoky Mountain Christmas Festival at Dollywood: The entire theme park will be filled with Christmas lights, music and themed entertainment through January 4, 2018. Don't miss Dolly's Parade of Many Colors on Showstreet at 8 p.m. each evening and the spectacular "It's a Wonderful Life" production. Experience a winter wonderland like no other at Dollywood.
1-January 7, 2018
Shadrack's Christmas Wonderland: Every night rain or shine – including holidays – it's a Christmas Lights spectacular at the Tennessee Smokies Baseball Stadium in Kodak. From dusk to 10 p.m., experience the 1.5 miles driving tour through synchronous Christmas lights set to Christmas music. Santa's Village with inflatables, Santa, and snack bar returns this year from November 17-December 23. Weekends are extremely busy, so a visit Monday-Thursday will help you avoid long lines. Visit online for more details and pricing.
1-January 31, 2018
Gatlinburg Winter Magic Trolley Ride of Lights: The guided trolley tour of Gatlinburg Winter Magic Christmas light displays at kicks off at 6:30 p.m. and offers tours through January 31 every evening at 6:30, 7:30 and 8:30 p.m., departing from Ripley's Plaza. Tickets are $5. Confirm tour dates and hours, and purchase tickets online.
1-February 28, 2018
Self-Guided Winterfest Lights Tour: The Pigeon Forge Trolley office at Patriot Park will provide maps with light display locations so that you can enjoy all the Christmas lights at your leisure.  View or print your own map!
2
Sevierville 55th Annual Christmas Parade: Enjoy at traditional, hometown Christmas parade in the middle of the downtown area beginning at 11 a.m.
2
11th Annual Bite of Sevier County: Bring your family and a few friends for the Annual Toys for Tots Bite of Sevier County at Oak Tree Convention Center (Behind Red Lobster) from 5-8 p.m. Taste foods from local restaurants for $20 per person to help give the kids of Sevier County a great Christmas! (865) 254-3911
2
Breakfast or Brunch with Santa: Lasting memories made with Santa! Kickoff your holidays with a family meal with Santa Claus himself at the Old Mill Square! Enjoy Breakfast or Brunch with Santa at Pottery House Café. Breakfast is being served 8:15-9:30 a.m. and brunch 10-11:15 a.m. Also, enjoy a fun filled Kid's Christmas Craft Tent from 10 a.m. to 2 p.m. Reservations required by calling (865) 406-6558. Reservations taken beginning early November.
3
Townsend Christmas Parade: Over on the quieter side of the Smokies, Townsend will round out the weekend with a "Back the Blue" Christmas parade. The family fun parade will follow a roughly two mile route along the Parkway in Townsend from the IGA to Nawger Nob Village. The parade starts at 2:30 p.m.
4-January 1
Titanic Museum Attraction Christmas & Winter Celebration: Inside and out, Titanic is magical during the winter holidays as it hails the arrival of Christmas with the seasons sights and sounds. After a tour of the Titanic's holiday spirit, visit the The Titanic Gift Shop for unique Christmas gift ideas and collectibles.
6-9
Christmas in the Smokies Bluegrass Festival: Four days of bluegrass music and jam sessions held at the Smoky Mountain Convention Center. Advance purchase and at-the-door 1-4 day tickets available. Visit online for a full lineup of schedule entertainers.
9
24th Annual Seymour Christmas Parade: This year's parade begins at 3 p.m. starting at Valley Grove Baptist Church and concludes at Kroger.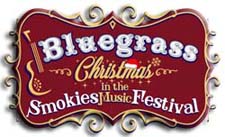 10
Santa Hustle: Don your best Santa suit and join in the fun of the Santa Hustle in the Smokies 5K & half marathon. There will be cookies, candy and Christmas music along the course! The 2017 Hustle charity is Keep Sevier Beautiful. Register online.
15-16
The Nutcracker "Sweet": Presented by the Smoky Mountain Dance Theater Company, enjoy this holiday classic presented in Pigeon Forge at Country Tonite Theater, with a Friday performance at 7 p.m. and Saturday at 2 p.m. For more information or to purchase tickets, please call (865) 680-7369.
25
Merry Christmas! From our family to yours, we hope your Christmas is filled with Love and Joy!
31
"NoonYear's Eve" Kid's Celebration: Kids can ring in the New Year too! The Titanic Museum is throwing kids their very own "NOON" New Year's Eve celebration complete with a kid's version of a grown-up midnight bash, Museum Tour, a visit with our own Alice in Wonderland and Mad Hatter character, PLUS a countdown to an exciting Noon Year Balloon Drop. $10 per child, age 12 and younger, Adults $28.50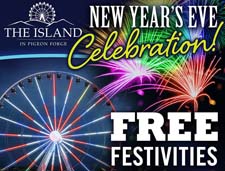 31
New Year's Eve Fireworks Show & Ball Drop on Historic: Find a spot early near the Space Needle at Nature Trail light #8 on the Parkway for the 29th Annual "Best New Year's Eve Show in the South." Live entertainment begins at 10 p.m. and continues through to the stroke of midnight for the ball drop and fireworks show. (800) 568-4748
31
New Year's Eve at The Island: Ring in the New Year on The Island in Pigeon Forge. The festivities begin at 10 p.m. and include live music, kid's activities, food and fun throughout the night. The countdown begins at midnight and is followed by a terrific fireworks display!
31
New Year's Eve Celebration: Country Tonite Theatre (865) 453-3002