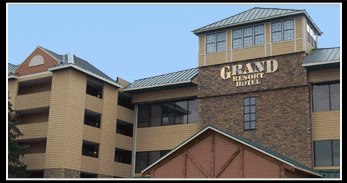 The Grand Resort Hotel and Convention Center once the Place to Stay in Pigeon Forge Tennessee has fallen off the map. In 2011 Tripadvisor listed it as the dirtiest hotel in America. See news release.
The 425-room hotel, which was the largest in Pigeon Forge based on number of rooms and second-largest in Sevier County behind Wilderness at the Smokies, 'has played host to tens of thousands of customers over the 30 years it was open.
This year the Convention Center Building was demolished and the hotel is still standing but only a shell.
With the closing of the Grand Resort Hotel and Convention Center the City of Pigeon Forge built the LeConte Event Center which opened in October 2013.